AlterCulture Records - Releases:


Buy CD and digital albums direct from us! (Also available from CDBaby, Itunes, etc.)

Digital albums, in various formats, mp3, flac, ogg, and more at alterculture.bandcamp.com

If you want CDs, T-shirts, booty shorts, or hoodies just look below.

Prices listed are in US Dollars. BUT Paypal will automatically convert your currency!


---
MINDLESS FAITH - Eden to Abyss CD (2015) - $10


Finally perfecting their unique, anthemic industrial sound, "Eden to Abyss" is Mindless Faith's sixth full length CD. Throbbing bass and dynamic beats collide with infectious synths and grinding guitars. Their vocals go from a chant to a wail, a whisper to a growl, and on a few songs contrasted by guest female vocals. Continuing to push beyond the limits of many of their peers, Mindless Faith industrialize other genres such as hip-hop, dub and trip-hop. They even mix in 1940's big band unaltered in one song and their own 1970's funk outro in another. While strange in theory, these alien elements are used to great effect in the context of the song, adding to its theme.
---
MINDLESS FAITH - Just Defy CD (2012) - $10


Or buy CD or MP3 via
Storming the Base
or
CDBaby
or
Itunes
01 The Thirst
02 Love is a Dirty Word
03 Next to Last
04 Over the Fence
05 Corporati$m
06 No Saints Allowed
07 Mutually Assured Destruction
08 Indiscriminate Force
09 You Don't Know...
10 Undone
11 Vultures (Let Us Prey Mix)
On their 5th album, "Just Defy", Mindless Faith continue to deliver a lethal dose of aggressive industrial anthems, ferocious, commanding vocals over crushing beats, awash with distorted synths and laced with overwhelming guitar riffs. Revolting against the all-too-common generic electronic sound, the band breaks new ground by including nightmarish psychedelics, outlandish ambient passages and brooding acoustic elements that showcase their diverse musical ability and adds to their genre-defying style.
---
GRAINS OF SOUND ~ Sine Language 3 CD set, Vol 1, 2 and 3 (2010) - $30
(Save $6 when buying all 3 or purchase single volumes below)
On their sophomore release, ambient-psy-trance duo Grains of Sound unleash a full spectrum of musical ingenuity. A concept album about the transcendent power of music to communicate beyond the barriers of time and space, each volume features their hypnotic futuristic sound, both worldly and other-worldly.
The result is a dynamic experience that is equally stunning in its intensity as it is relaxing in its peacefulness.
But each volume of Sine Language explores different styles and energy levels of this unified vibe.
Dance, chill, or zone, this three disc set has you covered.
Vol 1. Up (uptempo) CD (2010) - $12
Vol. 1 [UP] - Pulsating bass lines meld with arpeggiating synths to create psychedelic trance, both progressive and minimal, along with hints of
house and breaks.
Vol 2. Down (downtempo) CD (2010) - $12
Vol. 2 [DOWN] - Lush, sweeping soundscapes wash over sub bass
frequencies and deep downtempo beats, the perfect chill-out groove.
Vol. 3 Under (ambient) CD (2010) - $12
Vol. 3 [UNDER] - Vast evolving layers, organic textures and sentient
sounds leave all beats behind, pure ambient intoxication.
---
MINDLESS FAITH - Medication for the Misinformed CD (2008) - $10

Or buy CD or MP3 via CDBaby or Itunes
"the most impressive Electro Industrial import in years" -
Negatief.de
"a musical shot in the arm, all power, fury, and drive: the only medication you need!"-
Shadowland.no
---
GRAINS OF SOUND - Rays of Light Vol. 1 and 2 CD's

Vol 1. Down (downtempo) CD (2007) - $10
Or buy CD or MP3 via CDBaby or Itunes
Vol. 2 Under (ambient) CD (2007) - $10
Or buy CD or MP3 via CDBaby or Itunes
"Sweeeet tracks!" -
Carbon Based Lifeforms
"Favorite ambient chillout!" - DJ Brandon Adams (Dreamcatcher, NYC)
---
MINDLESS FAITH Manifest Destiny CD (2000) - $10
Or Buy on
Itunes
or from
CD BABY
"5 out of 5!" -
Outburn Magazine
(Oct 2000) "If you were going to buy one industrial CD this year, this is the CD you should invest your money in." -
Side-Line Magazine
(Issue #34) "There is no shortage of excellent production quality and sound nor creative style and talent to be found anywhere on this album..." -
Starvox E-zine
---
MINDLESS FAITH - Momentum CD (2004) - $12
Or buy on
Itunes
Was released on Metropolis Records in North America
and Dependent Records for the rest of the world.
Debuted at #7 on the
German Alternative Charts!
Ranked 4th highest in Checkline Section!
And #8 in the Heartbreakers Top 10!
Side-Line Magazine
"Momentum" expands on the band's music by better balancing moments of frenzied electronics with a more restrained and sharpened sense of structures."
Outburn Magazine #28
---
MINDLESS FAITH - The Silence CD (1996) - CD OUT OF PRINT

Digital reMaster-ReIssue via bandcamp $5


---
MINDLESS FAITH- I'M PRETTY MUCH FUCKED T-shirts, red and white on front, limited stock

Exeris wearing 1 sided design at Bar Sinister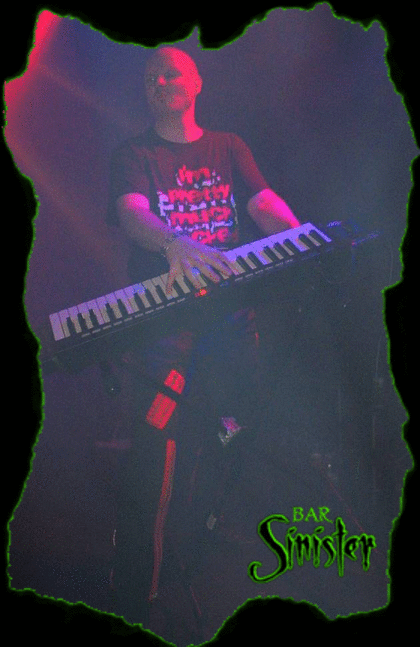 black, 100% cotton, Gildan brand

unisex size chart

ladies size chart



Unisex T-shirt (XXL, other sizes sold out) - $15 shirt info

Ladies T-shirt (XS-XL) - $15
shirt info

Ladies Booty Shorts (S-L) - $15
shorts info

Unisex Pullover Hooded Sweatshirt aka Hoodie (XS-XL) - $25
hoodie info

---
MINDLESS FAITH- I'M PRETTY MUCH FUCKED Ladies 2 Sided Design

I'M PRETY small in white on front, MUCH FUCKED Mindless Faith in red on back at bottom, black 100% cotton, very limited stock.


I'M PRETTY MUCH FUCKED 2 sided design Ladies Long Sleeve T-Shirt (S-L) - $20
shirt info

I'M PRETTY MUCH FUCKED 2 sided design Ladies Tank Top (S-L) - $18
shirt info

---
MINDLESS FAITH "MOMENTUM" T-SHIRT!
NOT JUST 1 OR 2 COLORS BUT FULL COLOR!
Black, cotton/poly blend, except Ladies T is 100% cotton
Momentum Unisex T-shirt (L, XXL) - (was $16) NOW ON SALE $15 shirt info

Momentum Ladies T-shirt (S-L) - $15 shirt info

---
MINDLESS FAITH - Medication for the Misinformed tour poster - $15


SOLD OUT


It was designed by Chris Hopewell at Jacknife

This is not your average mass produced poster!

Each was hand screen printed on heavy quality paper.

LIMITED to 125, each is numbered and signed by designer.

Were sold on Holland tour, now available from our site.

Looks cool under black light too! See pic here



---
V/A - Gears Gone Wild Compilation CD (Bit Riot Records) - $10

Out of stock, available at other retailers.

features Mindless Faith - I'm Pretty Much Fucked (strip't mix)

1. intro for the machines
2. rabbit junk vs cyanotic - I vote bolshevik lite [glitch mode mix]
3. acumen nation - elective surgical strike [cracknation mix]
4. mindfluxfuneral - dream it dead [exclusive mix]
5. 16volt vs cyanotic - the defect people [glitch mode mix]
6. dj? acucrack - rust presses [cracknation mix]
7. mindless faith - im pretty much fucked [strip't mix]
8. drukore - my control = my power [glitch mode edit]
9. prude - darkroom v1.0
10. infocollapse - devastate
11.left spine down - u can't stop the bomb
12. breath and decay - alive right now [roll call version]
13. end.user featuring jared louche - the maker [exclusive mix]
14. genCAB - hitech lowlife
15. element DCLXVI - code six [wrist slash edit]
16. born into oblivion - afterthought
17. torrent vaccine - exude
18. everything goes cold vs XP8 - abort [exclusive mix]
19. defragmentation - core.rag.vagina
20. cyanotic - brutal deluxe [glitch mode demo]

4.5 stars - Regenmag.com!


---
OLD COMPILTIONS - OUT OF PRINT
DISTENTION - AlterCulture Records Label Sampler, CD OUT OF PRINT


This multimedia CD compilation features the up-and-coming talent on our label...perfect for your favorite altered state or dancing the night away as the world burns and a new millenium dawns!

Features 14 audio tracks (Distention mixes) and a CD-ROM track!
Mindless Faith - Rat Race, Strained, All These Years, Prodigy
Raudive Voices - Flicker, Accused, Dessau
Gears Slowly Grinding - Induce, Delusion
The Unquiet Void - Breathing Liquid Breath, The Cube of Bondage, A Constant Looming Uncertainty
Vivid Liquid - The Tear, Neuronaut
CD-ROM track contains: Quicktime video for Contaminated (demo edit) by Mindless Faith, band information and RealAudio clips of other songs



V/A - Subversion Compilation, CASSETTES OUT OF PRINT

Vol. 2 - features 18 electro/industrial/goth bands (from US and Europe), over 80 min. of music,

songs by: Mindless Faith, Lucifer Scale, State of Being, Secular Mechanism, Sofia Run, Aurifex, Mimic Mind, Neuroplague, Raudive Voices, Biofeedback, Needulhed, eCo, Next Level X, A Different Kind of Cop, Zero State, Hexdump, Carmilla's Dress, Procession of Steel

Vol. 1 - features 11 electro/industrial/goth bands (mostly from Pennsylvania), over 50 min. of music

songs by: Mindless Faith, Mace, State of Being, Neuroplague, Next Level X, Total Devotion, Pokeweed, Carmilla's Dress, Spine, Spilt Tears, and Fetish in the Sweatbox